At What Point do You Need to Have an Exit Strategy in Place?
By Paula Straub
If you have an asset such as a business, a stock portfolio, real estate or a pricey collection it is never too soon to educate yourself about how you plan to exit or sell. Although a lot may change before the actual sale, you never know exactly when some unforeseen ... More



7 Referral Attitudes that Produce Results
By Bill Cates
The foundation for building your practice with referrals is the set of attitudes, beliefs and assumptions you bring to your prospecting efforts. This is your referral mindset. I'd now like to share the seven attitudes you must develop and use to create the most pow ... More



The Magic Number For College Savings
By Joseph Hurley
The day finally arrives when you get to bring your new baby home from the hospital. Maybe you've already given some thought to saving for her college education. If not, you can be sure that one of your friends will remark in a joking sort of way that paying for her ... More
Sales Training Webinars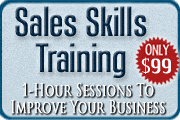 Business Expert Webinars speakers are international business experts including best-selling authors, award-winning speakers, and business gurus using webinar technology to deliver eLearning seminars. With over 750 live webinars on the schedule, delivered by over 150 speakers, BEW can help any business professional take their game to the next level.

To view our catalog of webinars, or to order, Click Here
As a As a Certified Funds Specialist (CFS) designee, your prospects & clients will appreciate the commitment you have made have a greater understanding of mutual fund investments.

Few advisors really understand how funds interact with other parts of the portfolio or how this investment vehicle should be analyzed.

This program bridges that gap, while teaching candidates how to evaluate or compare financial measurements and fund analytics when constructing a portfolio.
Growth Your Assets With Our

IRA Success Kit
Why should you specialize in IRAs? Because that's where the money is - and where more of it is heading! Designed by Ed Slott, CPA - called "The Best Source of IRA Advice" by The Wall Street Journal - this program teaches you how to capture your share of this $10 trillion market.

With this Kit, you will learn how to:

Prepare for unprecedented opportunity in the IRA market

Capture your share of nearly $10 trillion in IRA rollover assets

Outperform your competion with cutting edge IRA distribution strategies

Put the latest IRA tax strategies to work for your clients

Protect your clients from costly rollover mistakes

Generate more referrals in the IRA market
... More Details / Purchase
The I-9 Compliance Kit



The I-9 Compliance Kit gives you all the step-by-step guidance, forms, and tools you need in order to fill out, retain, reverify, and destroy Form I-9 in compliance with the Immigration Reform and Control Act (IRCA).


Your I-9 Compliance Kit includes:
I-9 Completion And Record-Keeping Guidance


Interactive I-9 Audit Form


I-9 Storage Binder With Tabs


FAQs
Don't risk costly fines or criminal charges! Order your I-9 Compliance Kit today!
... More Details / Purchase

U.S. International Tax Reporting & Compliance
Don't miss our 10th Annual Conference Series on U.S. Tax Reporting & Compliance. This two-day entry level and update session is designed to familiarize attendees with the latest IRS reporting requirements and review the latest Forms and best practices for IRS international tax compliance.


Other Events:
See Complete Calendar