Tax Extensions Unlimited
By Eva Rosenberg
So, your clients can't get their act together by April 15th? You know what that means - they want extensions. Naturally, they want you to do it without any help from them. That's getting tougher all the time with rules about preparer responsibilities, litigious cli ... More



Security of Funds - One of the Biggest Issues Facing 1031 Exchanges
By Gary Gorman
Security is the big issue for those investors doing 1031 exchanges. There have been a lot of stories in the news lately about intermediaries who've taken their clients' exchange funds. All of the bad things that happen with exchange accounts stem from commingled ac ... More



Do You Understand Subprime?
By Henrietta Nye & staff
If, over the past year, you have not been a volunteer for an experiment that requires living in an underground bomb shelter, you've probably heard the news reports about the mess created by sub-prime mortgage loans. If you thought real estate was supposed to ... More
Prepare for your Life & Health License Online!
Satisfy your Life and Health Insurance
pre-licensing requirement 'Virtually' anywhere!
This "Virtual Class" is a great training option for exam candidates who wish to prepare online for their state insurance licensing exam.

It meets the prerequisite education requirements of the states listed below, and it will provide learners with the content mastery and confidence necessary to pass their exam on the first attempt! Upon completion of this course, students will be eligible to sit for the state licensing exam. Eligible states include:
Click on a state listed above for more information or to register!
Become a 1031 Exchange Expert ...
and Attract Wealthy New Clients!
A 1031 Exchange allows investors to roll the gain from the sale of their Old Property to their New Property without paying capital gains tax.

Financial professionals who can articulate this procees will differentiate themselves from their competition, as a valuable resource for new affluent prospects and clients!

This will open the door to new clients and fees, plus referrals to other wealthy individuals!

Regardless of your present knowledge of 1031 Exchanges, you'll be an expert when you complete this course! Click below to learn more or order!
... More Details / Purchase

MEGA CPE SPECIAL!!



Why bother with multiple filings, multiple providers, multiple websites, multiple usernames/passwords? Satisfy your annual CPE requirement economically in one convenient place!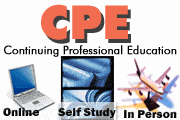 This unbelievable promotion grants you access for one full year to over 360 hours of Online CPE Credit!

Select from courses which range from Basic to Advanced in difficulty, each providing you from 2 to 40 hours of CPE credit.

You have access to these courses for one full year, and can complete each online at your convenience - 24/7, from the leisure of your home or office!

Fields of study include taxation, accounting, auditing, management advisory services, marketing, consulting services, administrative practice, finance, and business law.
... More Details / Purchase

Accountant's Guide to Fraud Detection and Control
Accountants and internal auditors are often the scapegoats for management's insufficient fraud detection operations and guidelines.

At last, here is comprehensive, intermediate training for evaluating, devising, and installing fraud-specific internal controls, and for conducting proactive fraud-specific examinations.


Other Books:
See More Books

Advanced International Tax Forum
As an advanced program, this seminar will provide the advance information and education including highlights for new Transfer Pricing Regulations, Strategies for Repatriating Foreign Earnings, FAS 48 Reporting.
Other Events:
See Complete Calendar