IT Audit School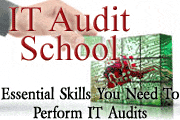 Seminar: ID# 1003291
About This Course:
This four-day course is designed for financial, operational, business, and IT auditors who need to update their technical and operational knowledge to audit information technologies and business application systems.
Focusing on a top-down, risk-based approach to auditing application system transactions, you will master techniques you can apply to all types of applications from batch, to on-line, to real-time systems.
You will learn:
The concepts of information technology as they relate to key risks in the IT environment
Explore such IT areas as operating systems, database management systems, and networks
The IT audit concepts you need to know to effectively audit existing application systems
New systems under development
Mainframes
Distributed systems
You will leave this intensive seminar with a solid foundation in the basics of information technology as they apply to IT risks, audit, information security, and business application systems.
Bonus: You will receive a copy of MIS' Information Technology &Audit Acronym Dictionary, defining hundreds of IT terms and acronyms. and the MIS Applications Control Handbook.

Partial Agenda

Below are just a few of the areas covered in this course. Please click the "Agenda" tab at the top of this page to view the complete agenda.
Audit Objectives And Requirements
IT Basics
Planning The IT Audit
Auditing Standards
Network Technology And Controls
Database Technology And Controls
Infrastructure General Controls
Business Application Transactions
Top-Down Risk-Based Planning
Data Input And Processing Models
Application Controls
Learning Level
: Basic
Prerequisites
: None
Dates and Times
: Classes start on the date(s) posted herein, and run from 8:30am to 5pm daily, except for the last day of class, which ends at 3pm.
Order:
IT Audit School
Price: $2,495.00
To order this product, find a location and date that is convenient for you under the "
Cities & Dates
" tab.