Want To Be A Forensic Accountant?
We can help! The CPA Training Center offers Forensic Accounting training courses, including the prestigious Forensic CPA designation.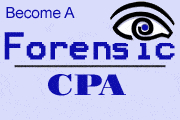 Forensic Accountants who are certified utilize accounting and auditing skills, but also apply investigative skills to uncover what actually took place in a particular financial setting or transaction.
Find Forensic Accountant Training
To find your desired Forensic Accountant training courses, either select a Recommended Course from the list below, or choose "Fraud/Forensic Accounting" from the "Professional Development" section of the search box at the bottom of this page.