Become A Certified Management Accountant!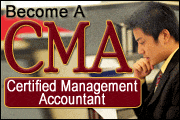 Searching for Certified Management Accountant (CMA) exam training? Then you've come to the right place!
CPATrainingCenter.com offers Certified Management Accountant training and certification courses for those individuals interested in earning the prestigious CMA designation.
The Certified Management Accountant (CMA) designation is the undisputed professional credential for persons in the field of management accounting and financial management. The CMA designation signifies that an individual working in this field has mastered a comprehensive body of knowledge directly related to operational and strategic management as well as the skills and abilities required to build quality business practices inside organizations.
Recommended Courses & Available Training Options
CPATrainingCenter.com offers exam review courses and training for earning the CMA designation.
Simply select the recommended course below, or search under "Licensing/Designations" in the search box thereafter for "CMA - Certified Management Accountant".