Learn To Be A Tax Preparer!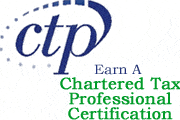 Are you searching for Income Tax training? Whether you want to supplement your income as a part-time tax preparer or work full-time, it might be easier than you think. To work as a tax preparer, you simply need to complete an approved tax prep training program, or tax prep online training course.
The Accounting Training Center provides approved tax prep training and income tax training for individuals who are interested in pursuing a career in income tax preparation. We also offer tax prep online training courses for those who do not have the time to attend a traditional live class.
Start Your Tax Prep Business Today!
Tax prep can be a very lucrative business during tax season. There are several avenues one can take to become a tax preparer. An individual can study to become a CPA or Enrolled Agent, however, this route could take months, even years, to complete. If you're looking to invest less time and money and gain marketable skills, all while working at your own pace, then let The Accounting Training Center assist you with your income tax training needs.
---
Recommended Courses and Available Tax Prep Training
---

To find your desired Tax Prep training classes or Tax Prep Courses, either select a Recommended Course from the list below, or choose "Tax Prep" from the "Professional Development" section of the search box at the bottom of this page.