Are You Searching For Financial Planning Training?
Are you an accountant or CPA searching to expand your business with financial planning training, possibly a Certified Financial Planner (CFP) certification? Or maybe you would like to specialize in areas such as college, retirement or estate planning? Then you've come to the right place!
The CPA Training Center provides several financial planning training courses and professional certifications to assist with your financial planning training needs, including: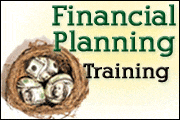 Financial Planning Online
As accountants, we know you rarely find "spare" time. Do you want to pursue a CFP certification but can't find time out of work to complete the required education program? The CPA Training Center offers a complete CFP Online Certification course! The course is self-paced and accessible 24/7. It includes all CFP required courses as well as an in-depth online CFP review!
---
Recommended Financial Planning Training Courses
---

To find Financial Certification and Financial Planning courses, simply click on any of the recommended selections below, or search under "Professional Development" in the search box thereafter for "Financial Planning".